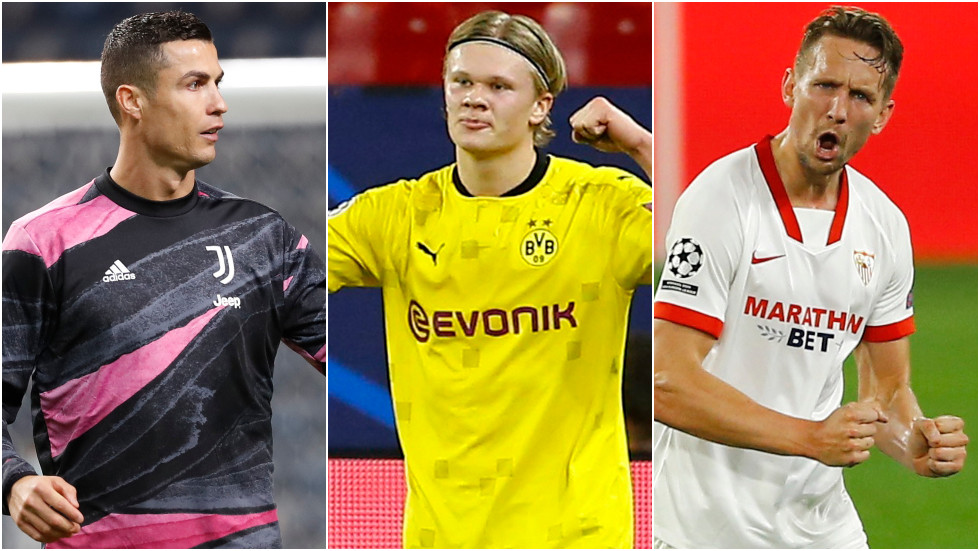 Juventus hope they can avoid a second successive round of 16 exit while Dortmund are on course to see off Sevilla and reach the Champions League quarterfinals. Here's what you need to know about tonight's knockout deciders.
Juventus vs Porto
The ghosts of Juventus' Champions League underachievement last season are looming large again. Last February, many assumed that the Italian contenders would advance against a talented yet unheralded Lyon side, starting the second leg with an uncomfortable yet far from daunting single-goal deficit at home.
Once their dangerous visitors had struck early, even Cristiano Ronaldo's usual grimacing determination could not rescue his side from an away-goals defeat after a win on the night, and there are obvious parallels between the result that effectively did for former Juve boss Max Allegri and the test they face against Porto tonight.
2-1 down courtesy of at least 45 sloppy minutes followed by a spirited late comeback in Portugal, Juve begin as heavy favourites again and undoubtedly have the quality to see off one of the trickiest teams in Europe, as they showed by ending Porto's formidable run of 549 minutes without conceding a goal in the competition to earn a respectable scoreline in the end.
At the same time, if Porto can emulate Lyon by pouncing quickly – and Sergio Conceicao's side did that three weeks ago, generously helped by some obligingly dozy Juventus defending after two minutes – there are few teams more capable of battening down the hatches and potentially thwarting Juve.
Sixteen games unbeaten in the league and with no notable absentees, Porto have only been beaten by Manchester City in the Champions League this season, although they face a Juve team who secured a convincing 3-1 win over Lazio in Turin on Wednesday despite going a goal down early on and resting Ronaldo.
Andrea Pirlo still has injury concerns in midfield but will have a refreshed top scorer to call upon, as well as Alvaro Morata, the striker most likely to supplement Ronaldo's irresistible force, on something approaching top form following his two goals in four minutes at the weekend. "He is always improving," said Pirlo, praising Morata as a student of the game. "He is ambitious and always tries to find the right solutions based on the opponents. He loves to read up on them.
"Cristiano Ronaldo lives for these matches, he is fired up and well-rested. Tomorrow is like a final for us and it will be for Porto, too. To overturn the result we will have to give our all and be clever in managing the game, playing a very technical one, because Porto will be compact, with two narrow lines, and therefore there will be little time to think.
"We can't just try to break through the centre immediately, but we need the patience to make them expand. We watched and re-watched the first leg, we would have liked to have played it differently, but when you go a goal down after a minute the plans change."
You could transpose Pirlo's remarks on Juventus' standing going before them to the build-up to that Lyon disaster last season. "We know we have all the credentials to move forward," he emphasized, either asking for trouble or injecting a sensible dose of confident self-talk. "We do not underestimate the quality of Porto, but we are Juventus and we have to think we can go through."
Captain Leonardo Bonucci has underlined the tactical approach most are anticipating from crafty Conceicao and Porto. "Even the fact of not having had a proper summer preparation affects things a little, but tomorrow evening we will only have the task of going 1,000 mph from the warm-up until the end of the game," he urged his teammates.
"The mistakes of the first leg served as a lesson. This team is made up of men who know their responsibilities and tomorrow we want to take Juventus to where it deserves to be. We must also know that Porto will not come here to try to defend the result and play on the counter-attack. We will not be able to afford to give even a second to our opponents." Big talk, Juventus must hope, will not again give way to immense frustration and regret.
Borussia Dortmund vs Sevilla
Sevilla had something of a delayed hangover from their Erling Haaland-inspired defeat at home to Dortmund in the first leg of this tie. On a run of nine straight wins entering that game, they responded by winning 2-0 at Osasuna in La Liga, only to embark on a run of two successive defeats to Barcelona and, on Saturday, a 2-1 setback at relegation-threatened Elche.
Perhaps the nature of that second defeat to Barca will inspire them to avoid a second cup exit in a week: seconds away from reaching the Copa del Rey final at the Camp Nou, Sevilla conceded a 94th-minute equalizer from Gerard Pique, and were then knocked out by a Martin Braithwaite goal five minutes into a forgettable period of extra time that included the dismissal of Luuk de Jong for protesting from the stands after being substituted. De Jong's late goal in the first leg has given them what still looks like a slim chance of progressing against opponents who endured a draining defeat on Saturday.
As he did in the first half against Sevilla, Haaland scored twice – this time within nine minutes of kick-off – to put Dortmund on course for a famous win at all-conquering Bayern Munich. Predictably, Robert Lewandowski intervened, scoring twice before the break and completing his hat-trick in the 90th minute after Leon Goretzka had put Bayern ahead two minutes earlier to condemn Dortmund to a cruel late defeat.
As against the reigning Champions League winners, Dortmund will be without influential widemen Raphael Guerreiro and Jadon Sancho against Sevilla, who are expected to have goalkeeper Bounou, left-back Marcos Acuna and winger Lucas Ocampos back. Midfielder Joan Jordan said Sevilla have "the correct and necessary amount of anger" following their faltering run of form and agonizing cup defeat. "We are convinced that we will do them damage and that we will go for them," he added. "If we had gone through against Barcelona, we would surely be kings and we would be feeling very good.
"I think the team will be in a good place, both physically and mentally – no doubt about it. Whatever gameplan we come up with, we'll talk about it among ourselves. We're really looking forward to the game."
Dortmund boss Edin Terzic has Thorgan Hazard back after a lengthy lay-off and expects Haaland to play despite his premature departure to have an injured foot attended to against Bayern. "He's doing well," said Terzic. "The knock is not impacting him. We're expecting him to play a part. [Sevilla needing to win in Dortmund] will not change the fact that we want to win the match ourselves and that we want to show our football on the pitch.
"We're expecting ourselves to perform the way we did in Seville, with a healthy aggression. It would make every one of us proud to reach the quarterfinals. It's enough of an incentive to know that our journey in the Champions League may continue." That journey has ended at this stage in the last two years, and tonight is indisputably their their best chance to reach the last eight since 2017.



Also on rt.com
Lionel Messi goes wild on pitch as Barcelona earn dramatic cup semifinal comeback win – two days after police raid on club (VIDEO)