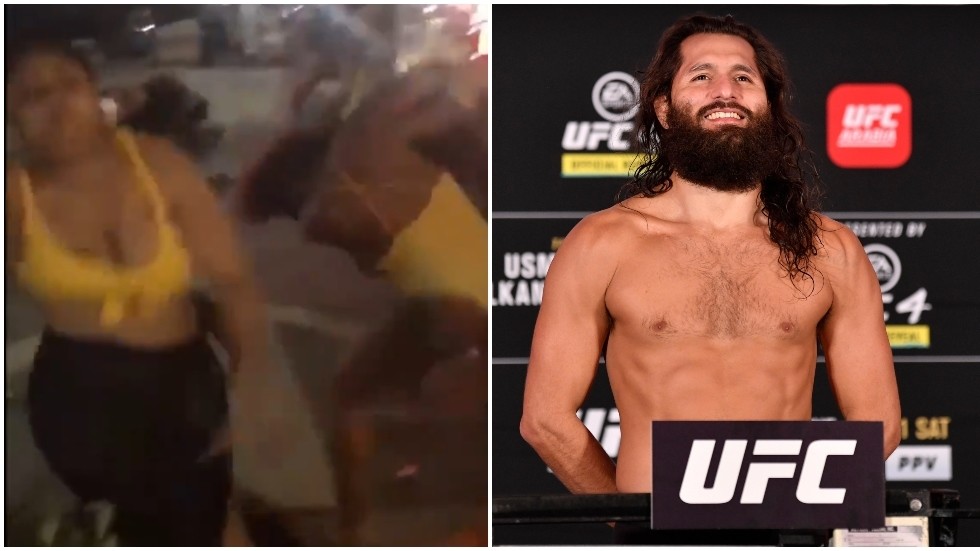 Jorge Masvidal knows a thing or two about fighting on the streets of Miami, which could explain his apparent glee at the spate of viral videos coming out of Florida showing a series of brawls between sets of scantily-clad women.
Masvidal, who is set to challenge UFC welterweight champion Kamaru Usman for a second time later this year, forged his fighting path on the streets of Miami by appearing in various streetfighting videos in years gone by alongside iconic puncher Kimbo Slice.
And despite 'going legit' since, it is clear that UFC veteran Masvidal is still fond of people throwing fists on the street – perhaps even more-so if they are the type of all-female fights of which footage has been filtering from Florida throughout Spring Break. 
"With some better camera work I'd pay 4.99 for this," wrote Masvidal in response to one video which purports to have been recorded recently but was actually several years old.
However, despite the dated clip many are saying that it is representative of what has been transpiring in the state throughout Spring Break.
Miami Beach officials were forced to declare a state of emergency in the wake of numerous incidents similar to that in the above video, with a curfew also imposed in an attempt to curb anti-social behavior.
This marks the second year in succession that a state of emergency has been declared in Florida during Spring Break, with last year's being due to throngs of crowds gathering despite restrictions in doing so due to the onset of Covid-19.
Miami Beach 10 mins after new 8 pm city-wide curfew. They declared a State of Emergency due to #SpringBreak crowds had street fights, trashed restaurants & gathered without wearing masks or social distancing. Parts of South FL are huge hotspots for #COVID19.WTF #COVIDIOTS! 🤬 pic.twitter.com/yKOxD7yjMd

— The Jewish Ginger Resister (@EricHaftelLive) March 21, 2021
Florida has been at the forefront of a campaign to open back up from the various coronavirus guidelines which had temporarily closed the doors of many of its establishments, with Miami Beach Mayor Dan Gelber saying that this is a primary reason why the area is so choked with legions of twenty-something partygoers.
"I think it is in part due to the fact that there are very few places open elsewhere in the country, or they're too cold – or they're not open and they're too cold," he said. 
Local press has also indicated that revelers have caused serious damage to a large number of bars and restaurants in the Miami Beach region, with restaurateurs also complaining of repeated instances of groups of people leaving without paying their bill.



Also on rt.com
Video shows brutal street brawl in which UFC fighter Jared Gordon 'nearly lost 3 fingers'